Williams Co.'s excuse: "an insufficient level of firm customer commitment" for its Marcellus shale to Gulf of Mexico gas pipe. That's corporate-ese for it got to be too expensive; it's the same thing a company that wanted to put a biomass plant in Lowndes County said. Couldn't have had anything to do with massive public resistance, oh no. This is the same Williams Co. that owns Transco, first in the chain of the Transco -> Sabal Trail -> Florida Southeast Connection pipeline through Alabama and Georgia to Florida's Atlantic and Gulf coasts, where there are already several companies authorized for LNG export. That one could get too expensive, too.
Tim Rudell wrote for WKSU 29 April 2014, Bluegrass pipeline project through Ohio and beyond is cancelled,
The plan was to send some production of the Utica and Marcellus shale from Ohio and Pennsylvania to distribution facilities on the Gulf Coast. But in a written statement calling it a plan ahead of its time, project lead-partner, Williams Energy said there was "an insufficient level of firm customer commitment" to go forward.
Sure, and that happens. But what about the other factors?
Protests as well

There was widespread and active push back against the Bluegrass plan from environmentalists and concerned citizens groups along its proposed route from western Pennsylvania, through northeast, central and southwest Ohio, to about half way across Kentucky. The most intense protests were in Kentucky.

And a Circuit Court judge in Franklin, Ky., ruled that the pipeline builders could not use eminent domain to acquire easements on properties where owners did not want to allow the pipeline to cross.
But beware: FPL tried in 2009 to do a third gas pipeline and came back in 2013 with the current bad plan. Meanwhile, as Alex Nussbaum and Tina Davis wrote for Bloomberg Businessweek 28 April 2014, Boardwalk Says Bluegrass Pipeline Not Dead After Investment Halt,
Boardwalk Pipeline Partners LP (BWP:US) said its Bluegrass pipeline project to ship natural gas liquids to the U.S. Gulf Coast may still be revived, even after suspending investments today with partner Williams Cos. (WMB:US)

"We are no longer funding any capital for those projects, but the joint venture between us and Williams is still in place and we continue to have discussions with customers," Boardwalk Chief Executive Officer Stanley Horton said on a conference call with analysts today. "The project is not dead."
But even that has a silver lining:
Bluegrass's demise would remove the "financing, regulatory and execution risks" of the project, while it may lead investors to "question the security" of other Williams projects, said Christopher Sighinolfi, a Jefferies LLC analyst in New York. Williams had included the pipeline in its projections, while Boardwalk hadn't, Sighinolfi said.
Let's see some analysts question the security of Williams' Transco Hillabee Expansion Project, that first in the three-pipeline chain through Sabal Trail and FSC to the sea. Many analysts already are calling all fossil fuel stocks stranded assets. And the trendy Wall Street term for electric utilities that keep pushing fossil fuels instead of getting on with renewable solar and wind energy is "death spiral". And that's after analysts have been saying for a year that solar and wind are eroding the carbon bubble which is going to pop.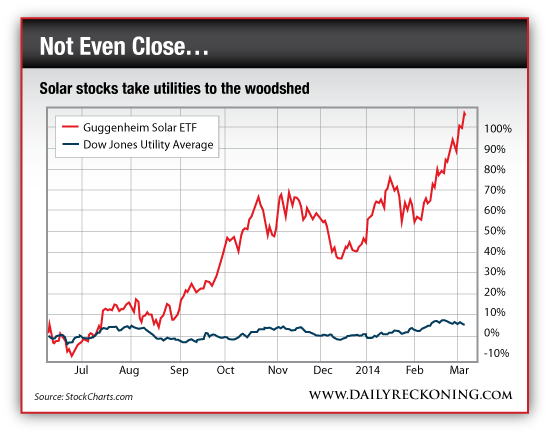 It's time for FPL to ditch the fracked methane ditch and get on with sun and wind. Look at those solar stocks skyrocketing while fossil fuel stocks stagnate….
-jsq
Short Link: