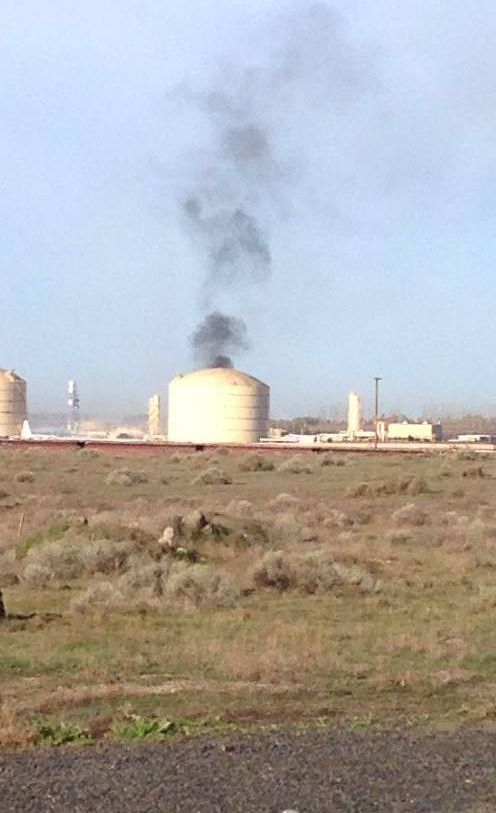 A two-mile evacuation ratio around a Williams fracked methane facility in Oregon, and once again a state agency investigates while federal PHMSA does nothing, same near Plymouth, WA, as on Sauvie Island, OR.
Kristi Phil reported for the Tri-City Herald 31 March 2014, UPDATE: Evacuation radius near Plymouth plant to be reduced,
It's unknown when Plymouth residents will be able to return to their homes after an explosion and fire at a nearby natural gas facility Monday morning triggered fears of a second, larger explosion.

Up to 1,000 residents and agricultural workers were evacuated from a two-mile radius around Northwest Pipeline in south Benton County after the explosion, which caused slow leaks from a massive storage tank and injured five people.

Hazardous materials experts entered the liquefied natural gas facility Monday afternoon for the first time nearly eight hours after the initial explosion and fire inside a building at Northwest Pipeline, a subsidiary of Williams Partners.
Claire Graham and Emily Bowman reported for KNDO 23 and KNDU 25 1 April 2014, Fire and Explosion at Natural Gas Plant near Plymouth,
Pipeline safety investigators from the Washington Utilities and Transportation Commission are responding to the natural gas plant explosion near Plymouth.

The UTC investigator, who is a pipeline engineer, will investigate the cause of the explosion and fire after the site is secured. They will also ensure that no evidence is disturbed, and maintain communications with the western region of the U.S. Department of Transportation Pipeline and Hazardous Materials Safety Administration (PHMSA).

Benton County Deputies say they have evacuated between 300 to 1,000 people. They are planning to send in a robot to make sure it's safe for responding personnel.

Deputies say they don't yet know when residents will be allowed to return home.
And it's not the first time for Williams in the U.S. northwest, according to the Kristi Phil story:
This time the incident didn't involve an underground pipeline, but there have been at least three major gas explosions in the Pacific Northwest in the past 15 years.

In 2003, a 26-inch-wide Williams-Northwest line in Auburn ruptured, shooting debris and rocks hundreds of feet into the air. There was no fireball and no one was injured, but hundreds of people were evacuated. Swaner said that Auburn line was completely replaced in 2006.

In 1999, an Olympic Pipe Line Co. line carrying liquid gas ruptured near Bellingham, causing a huge explosion and killing three people.

That same year, a Williams-Northwest natural gas pipeline exploded near Pendleton in rural Umatilla County. No one was killed but it left some 10,000 customers without heat for days.
-jsq
Short Link: