Shale basins lie under our Floridan Aquifer in most of south Georgia and much of north Florida,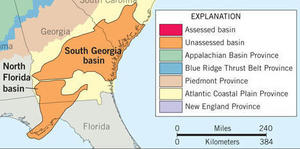 plus northwest Georgia, so it's time for Georgia counties to join Florida in passing anti-fracking resolutions.
Alton Burns wrote:
I submitted a request for a resolution to ban fracking in Georgia to the Thomas County Board of Commissioners on 3/15/2015. So please, I would like the people of Thomas County to reinforce this and the people of all counties in Gerogia to do likewise. Together we can stop this crime!
Here's the text of the request he sent to the Thomas County Commission: Continue reading Anti-fracking resolution suggested to Thomas County, Georgia →