That 1989 $15 million fine against Spectra for leaking PCBs at 89 pipeline locations was a record for EPA at that time, but Pennsylvania topped it a few years later.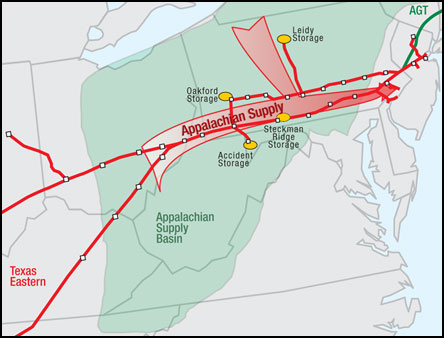 Russell E. Eshleman Jr. wrote for the Philadelphia Inquirer 15 May 1991, Pipeline Firm To Pay $218.6 Million For Pcb Contamination Across Pa.,
Texas Eastern Pipeline Corp. has agreed to pay Pennsylvania $18.6 million in penalties and $200 million in cleanup costs for dumping PCBs at 19 sites across the state, the Casey administration announced yesterday….
Remember, Texas Eastern is part of Spectra Energy now.
Penn. had asked for even more than it got, so it got enough:
Jeffrey K. Schmidt, Harrisburg lobbyist for the Sierra Club, downplayed the lower fine, noting that the settlement exceeded that agreed to by the federal Environmental Protection Agency.

A consent decree signed by the EPA and Texas Eastern in 1988 called for $15 million in civil penalties and a cleanup effort over 10 years at 89 sites in 15 states. That cleanup could cost as much as $730 million.

"Pennsylvania, by holding out and cracking down pretty hard on the settlement, got fines that exceeded the EPA," Schmidt said. "To me, the message the settlement sends is that states ought not rubber-stamp federal settlements."
Why does this matter?
Pennsylvania is among 15 states believed to have suffered from the chemical contamination.

PCBs are believed to cause cancer in humans if consumed by eating or drinking or if breathed in or absorbed through the skin. The substance, polychlorinated biphenyl, was contained in lubricating oils used by Texas Eastern at some of its facilities from 1958 until 1977.

During operations, some of the oils were released into the ground.
Spectra's own 28 February 2014 filing of its SEC Form 10-K for 2013 says:
The Toxic Substances Control Act, which requires that polychlorinated biphenyl (PCB) contaminated materials be managed in accordance with a comprehensive regulatory regime. Because of the historical use of lubricating oils containing PCBs, the internal surfaces of some of our pipeline systems are contaminated with PCBs, and liquids and other materials removed from these pipelines must be managed in compliance with such regulations.
Some of the gas for the Sabal Trail pipeline would come from fracking fields in Pennsylvania or Texas through Spectra's Texas Eastern pipeline, so the gas could pick up PCBs along the way.
Stop the PCBs. Stop the pipeline.
-jsq
Short Link: