In a county already famous for sinkholes, the fire and police department just had to move off of a sinkhole. Sabal Trail wants to poke a yard-wide pipeline on a hundred-foot right of way right through that area, and under rivers, some of which already leak underground. How about solar power for the Sunshine State instead?
GTN News, 11 July 2014, Williston Has A New Sinkhole – UNDER the Police Dept. and Fire Station,
A new sinkhole in Williston, but it's not forming just anywhere. It's underneath the police station and fire department. GTN's Hailey Holloway has more on the problem and what the city is trying to do to prevent a disaster.

Heavy rain getting into the Florida soil is causing the building to shift and crack and buckle.

"Unless by the grace of God it rains everywhere but Williston, we're going to have issues."

The problems started in March. Panels are popping off the 22 year old building and insulation is coming out. There's also sloping in the floor and cracks everywhere.

"One option is to move. There are other pieces of property inside the city that we could conceivably go to. But with very few exceptions, all of those are going to cost money."
Moving is what they did, at least temporarily, according to WUFT 4 November 2014.
Back to the July report:
The city manager says city hall is also showing signs of a possible sinkhole. The insurance adjuster made a second assessment yesterday, we will keep you updated as the results come out.
What if the Sabal Trail pipeline caused a sinkhole? Spectra's annual SEC Form 10-K filings say they don't have adequate insurance to cover events like that. So once again local taxpayers and their insurance would be on the hook.
How bad could a sinkhole get? Williston is actually famous for the only relatively safe walk-in sinkhole, according to My Fox Tampa Bay 6 March 2013, The view, and lessons, from down inside a Florida sinkhole,
WILLISTON, Fla. (FOX 13) — Sinkholes have been a part of Florida's geography thousands of years. But they've been in the news so much recently, a lot of people have been asking questions about them.

There's only one sinkhole that's safe enough to tour, and get some answers and views from the inside.

It is in Williston, Florida, and above ground, you'd never know what it was.

"It's like the sinkholes that are developing now," said tour guide Prince Johnston.

From the inside, it's gigantic.

"It just opened up to an underground cavern," Johnston said.

The prehistoric cavern is the same geology behind the thousands of sinkholes Florida has seen and will see more of over the years.

"It's basically round at the top and it's like an upside down mushroom. As you come down, it doubles in size to about 120 feet," Johnston said.
Other sinkholes go all the way down into the Floridan Aquifer, the source of all our drinking water in south Georgia and all of Florida. For example just north of Valdosta, Georgia, the Withlacoochee River leaks into the aquifer, and a new sinkhole opened up within a month only a couple years ago, both in Lowndes County, Georgia. The Alapaha River disappears entirely into a couple of sinkholes in Hamilton County, Florida unless there is heavy rain upstream. Almost all the north Florida rivers that cross the Cody Scarp go underground, including the Santa Fe River.
As geologist David Brown reminded us all, drilling under a river in the fragile karst limestone containing the Floridan Aquifer could cause sinkhole formation and collapse, for example in Hamilton County, Florida. Local landowner Chris Mericle reminded FERC of that in case it had forgotten since Sabal Trail started its new docket number.
Geologist Don Thieme, a professor at Valdosta State University, also spelled it out for FERC:
These rock types convey nearly all surface contamination directly to a large and extremely productive groundwater aquifer.
But hey, what are the chances of a sinkhole in Levy County, Florida?
Actually, according to this map by FCIT, pretty good, since they're already everywhere, and not just in Levy County: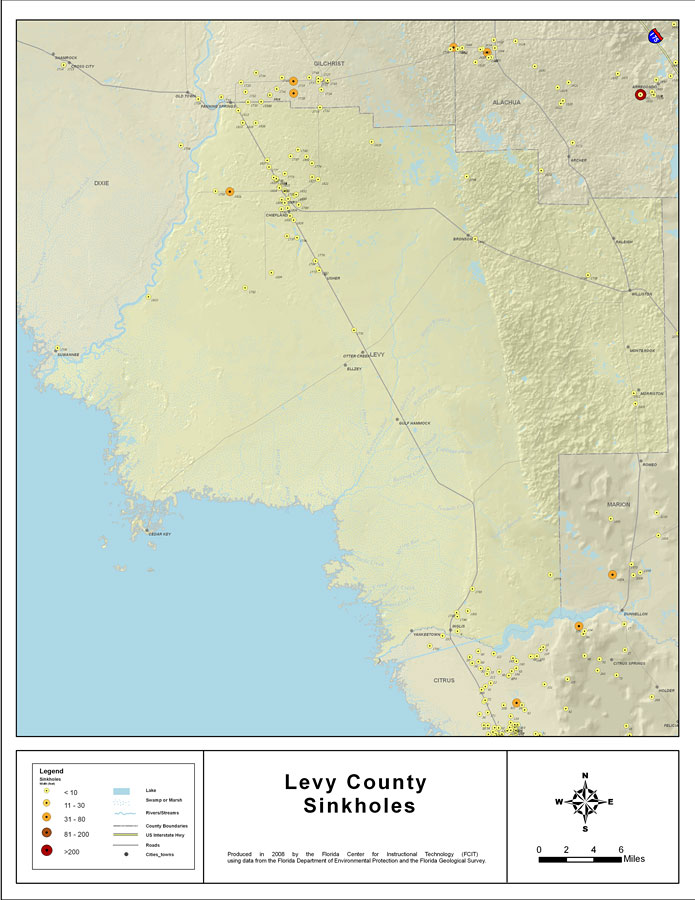 As the Florida Department of Environmental Protection told FERC, there's really no place in central north Florida that's safe for the Sabal Trail pipeline. That map stops at the state line, but the geology does not: the same risks apply in south Georgia as in north Florida.
Why should Levy County, or anyone else, accept any risk for the unnecessary Sabal Trail pipeline? The Sunshine State can do solar power instead, and so can the rest of us.
-jsq
Short Link: