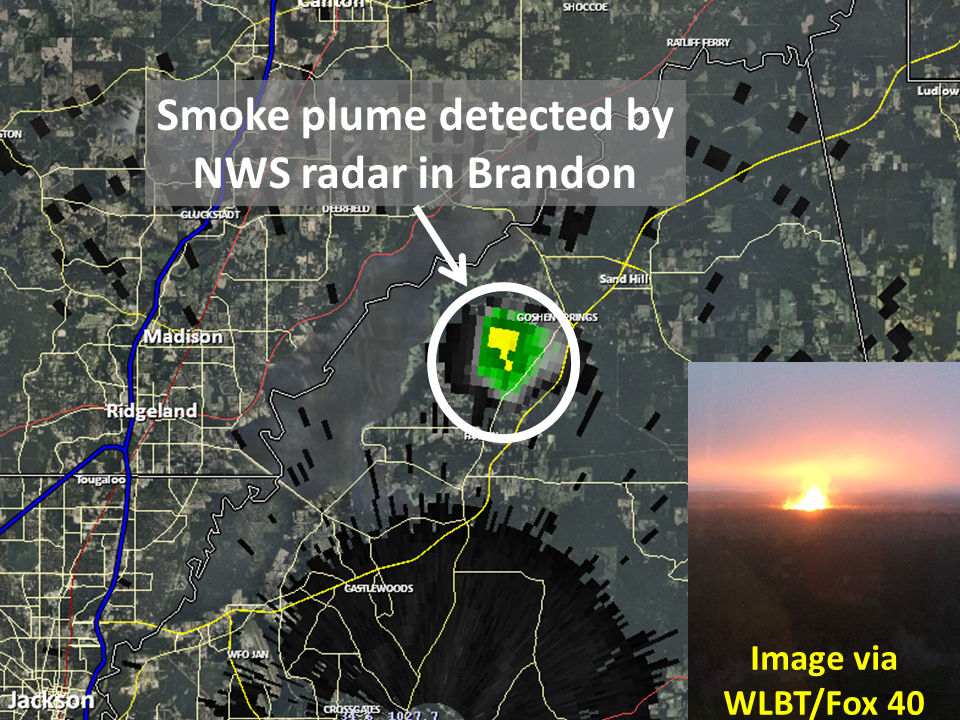 If a pipeline explodes and only trees are burnt, does anybody care? This one was picked up by National Weather Service radar. Have you ever heard of solar panels exploding?
Josh and Toni Hardy, MSNewsNow, 14 January 2015, Pipeline fire burns out; leaves behind scorched patch of forest,
RANKIN COUNTY, MS (Mississippi News Now)—An explosion near the Barnett Reservoir lit up the skies Wednesday morning.

It erupted around 6:20, off of Three Prong Trail. That's east of the Reservoir.

Gulf South Pipeline has confirmed the natural gas line explosion on their property.
Sean Breslin, The Weather Channel, 14 January 2014, Mississippi Natural Gas Pipeline Explosion Picked Up By Radar,
A natural gas pipeline near Jackson, Mississippi, burst into flames Wednesday morning, leaving wooded areas burned and a rare image on radar.

The blast spooked nearby residents, who saw the large, orange glow in the pre-dawn sky and began to ask about its origins on social media. Gulf South Pipeline confirmed the explosion was along a natural gas line east of the Barnett Reservoir, MSNewsNow.com reported.

The National Weather Service's office in Jackson noted that the smoke plume from the fire was picked up by local radar.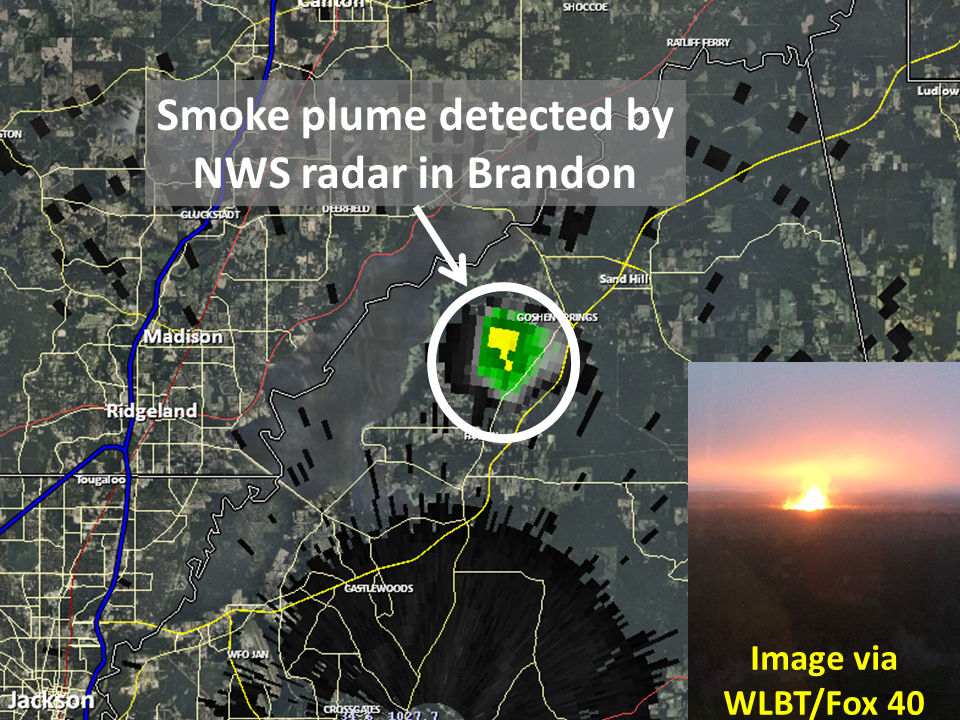 And guess what, back in the MSNewsNow story:
Rankin County Sheriff Bryan Bailey says their Department and Rankin County E.R. Management Operations along with several other agencies and the gas company, Gulf South Pipeline, are on the scene where the explosion happened.

They are working to figure out a cause now.
Local government gets to pick up the tab, and the pipeline company doesn't know the cause. Yet again.
The gas is now shut off.

The only damage is to possibly an acre worth of trees.
Yeah, trees: who cares about trees? Well, I do. And maybe you do, if they're your trees.
You know, my solar panels have never exploded nor even leaked, not once!
Here's some video.
MSNewsNow.com – Jackson, MS
"This inferno brought to you by…."
-jsq
Short Link: