Shale basins lie under our Floridan Aquifer in most of south Georgia and much of north Florida,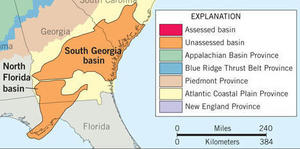 plus northwest Georgia, so it's time for Georgia counties to join Florida in passing anti-fracking resolutions.
Alton Burns wrote:
I submitted a request for a resolution to ban fracking in Georgia to the Thomas County Board of Commissioners on 3/15/2015. So please, I would like the people of Thomas County to reinforce this and the people of all counties in Gerogia to do likewise. Together we can stop this crime!
Here's the text of the request he sent to the Thomas County Commission:
Hello Commissioners:

Please allow me to submit this request for you to consider an agenda item or two. I first came to you on December 9, 2014 with my concerns of the proposed Sabal Trail Transmission Pipeline and ask you to consider implementing solar energy into our county facilities. I came to you again February 24, 2015 to follow through. I have attached information, Valdosta Named "Smart Energy Municipality of the Year" as Mr. Moses Gross requested. Please consider this for our county too.

Further, I know you are aware of the campaign to ban fracking in Florida with Leon, and Madison Counties recently passing resolutions against it, which now brings me here again to you, as I ask you to also please consider this issue too.

Thank You & best regards

Alton Paul Burns
And Hamilton County, FL passed Resolution 2015-02 on 3 March 2015. Food and Water Watch has a longer list including Alachaua County, Miami-Dade County, Union County, the cities of Coconut Creek and Hallandale Beach, and the Leon Soil and Water Conservation District.
Our Santa Fe River reports when it sends people to speak at new counties, including Gilchrist County and Baker County.
In Georgia (and north Florida), WWALS Watershed Coalition supports a ban on fracking.
It's time for Georgia to get on board the anti-fracking bus.
-jsq
Short Link: