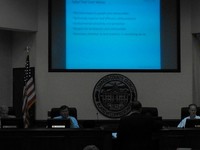 The Lowndes County Commission promised to ask Spectra Energy questions citizens submitted. They failed. They meet again 5:30 PM tonight at their Regular Session:
327 North Ashley Street, 2nd Floor
Valdosta, GA 31601
229-671-2442
If you want to speak in Citizens Wishing to Be Heard you need to turn in this form before the meeting starts. They usually have copies at the door of the Commission Chambers, but if there's a big crowd they might run out, so you can print your own beforehand.
There will be protesters out front starting at 4:30 PM.
Here's a roundup of local blog, TV, and newspaper coverage:
-jsq
Short Link: