SpectraBusters, Inc. has incorporated in Georgia with board members from all three states on the path of the proposed Sabal Trail Transmission methane pipeline: Alabama, Georgia, and Florida.
The SpectraBusters board members include directly affected landowners and a wide range of others affected by the pipeline. All board members serve as individuals. See also the long list of allied organizations. To contact the SpectraBusters board about any of these or other policy issues, or about an organization being an ally, please send email to the SpectraBusters contact address: spectrabusters@gmail.com
Beth Gordon, President,
doesn't want a 36-inch pipeline through her horse farm in Levy County, Florida, where she practices law with The Gordon Law Firm. She filed a legal protest with the Florida Public Service Commission against the pipeline and spoke against it at the Levy County Commission, noting this pipeline is much bigger than previous pipelines or those that blew up recently in Oklahoma or Texas, plus the company behind this pipeline has a long list of fines for PCB pollution by EPA and for property damage, leaks, and negligence by PHMSA.
Debra Johnson
lives in Suwannee County, Florida, which is the target of all seven proposed Sabal Trail pipeline routes. She was a principal author of an Action letter to County Commissioners reccomending resolutions or ordinances. She is also one of the organizers of Suwannee Alliance For Sustainable Growth.
Curtis Beaird loves birds, words, and nature and opposes Sabal Trail even though he lives nowhere near its proposed path.
Adrianna Taylor graduated from Valdosta State University (VSU), where she majored in political science with a concentration in American government, and was the president of Students Against Violating the Environment (S.A.V.E.) at VSU. S.A.V.E. opposes the Sabal Trail pipeline and advocates divestment from fossil fuels. It serves as a forum for education on environmental, as well as a medium from which our collective voices can be used effectively to insight social change. S.A.V.E. exists as an autonomous organization, yet works hand in hand with other organizations making progress in today's most important issues. Adrianna Taylor appeared on WALB TV in Leesburg, GA, at the Sabal Trail pipeline hearing 10 July 2014.
John S. Quarterman, Secretary, has 15
kilowatts of solar panels on his farm workshop roof where he grew up in Lowndes County, Georgia. Solar energy is already cheaper than any other power source; so cheap a judge in Minnesota recently ruled a power company had no excuse to use fracked "natural" gas instead of solar for power. That's even more true here in the sunny south, where he has long promoted solar energy for energy and jobs right here where we need them. Quarterman is also President of WWALS Watershed Coalition, Inc., which has filed as intervenor with FERC against the Sabal Trail pipeline, partly because the Sabal Trail pipeline would cross the Withlacoochee River twice, once in Georgia, and once in Florida.
Alton Burns recently installed solar panels in Coolidge, GA. He has asked the Thomas County Commission to invest in solar farms instead of pipelines, and he recently testified in Moultrie, GA for the defendant whom Sabal Trail is suing to try to get Georgia eminent domain.
---
Laura Dailey of Fort White, Columbia County, Florida, resigned from the board to become Director of Community Outreach & Speaker's Bureau. She has long been active in water and renewable energy issues. She drove many hours to the trespass hearing in Leesburg, GA, where she told interviewed for the WALB TV 6PM news,
"Where I come from it affects mainly the Santa Fe river which is the largest, single largest source of spring water on earth."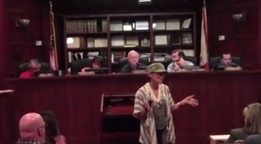 She asked excellent questions at the Gilchrist County Commission, about using the Sabal Trail pipeline right of way for renewable energy production.
"Will the pipelines be adaptable to future use of other forms of energy besides the transmission of fossil fuels. Anybody know that?"