FOR IMMEDIATE RELEASE
Valdosta, December 9, 2013—What's been done and what can be done to stop a
natural gas pipeline proposed to gash through here for the profit of companies far away. It's not just a federal issue: there are things every state and local government and citizen can do to prevent this safety and property value hazard.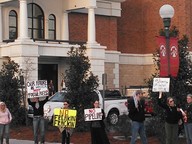 When: 7 PM to 9 PM
Thursday, December 12th 2013
Where: Lowndes County Offices
Multi-Purpose Room
327 N. Ashley Street, 2nd floor
Valdosta, GA 31601
Phone: (229) 671-2442
Why: Spectra Energy proposes
a hundred-foot-wide gash through our lands for their huge 36 inch Sabal Trail gas pipeline from Alabama through Georgia to feed Florida Power and Light (FPL) for no benefit to local citizens. A one-time payment is nowhere near adequate for permanent destruction and hazards when FPL and Spectra would profit forever.
Agenda: Continue reading Update on the Sabal Trail gas pipeline and how to stop it: SpectraBusters Information Meeting #3 →