Even Putin couldn't push a pipeline past opponents. Russia's formerly "dead certain" South Stream natural gas pipeline around Ukraine now has "potential for huge delays. Sceptics wonder whether it will happen at all." Gazprom used the same pipeline-pushing script as Spectra, and that ended up as farce. So maybe Sabal Trail isn't "moving forward", either. State and local permitting, or just plain public opposition, could turn that Sabal Trail pipeline snake into roadkill, so we can get on with solar power for real economic benefits without eminent domain and with clean air and water.
Guy Chazan wrote for Financial Times 24 August 2014, South Stream gas project may now be a pipe dream,
In November 2005, a pipeline called Blue Stream was inaugurated to bring Russian gas across the Black Sea to Turkey. It was, said President Vladimir Putin, who attended the ribbon-cutting ceremony, "just the start".

Mr Putin envisaged another Black Sea pipeline from Russia: a longer and more ambitious one, making landfall in Bulgaria and providing a handy southern conduit for Russian gas to the Balkans and eastern Europe — bypassing troublesome Ukraine. South Stream was born.

With Kremlin backing, this €¬15bn project always looked like a dead cert. But its future is looking increasingly murky. South Stream has become one of the biggest casualties of the east-west stand-off over Ukraine. There is now potential for huge delays. Sceptics wonder whether it will happen at all….

For critics of the Kremlin, there's a delicious irony in this tale. Moscow has long been accused by the west of using its energy exports as a political weapon. With one of its pet projects now ensnared in EU bureaucracy, it's finally getting a taste of its own medicine.
Well, we're tired of FERC and FE bureaucracy being used as a political weapon against our landowners, rivers, aquifers, local governments, and taxpayers. It's time to ensnare Spectra and Williams and FPL in some bureaucracy and protests.
Apparently all the world's pipeline companies read from the same script. Gergő Rácz wrote for Budapest business Journal 29 November 2013, South Stream hindered by EU legal restrictions,
Plea for a waiver

Gazprom and its partners in the venture from both the government and private sectors are hopeful that an agreement for derogation can be reached considering the weight and significance of the project.
Just like Sabal Trail applying to FL-DEP for an Environmental Resource Permit exemption for drilling under the Withlacoochee and Santa Fe Rivers, and a permit to cross the Suwannee River and "Water – Individual With No Conceptual Approval Permit", whatever that is, in Sumter County, FL, where the huge retirement community The Villages already had a building fall into a sinkhole in April, only 20 miles from the proposed Sabal Trail pipeline path. And Hamilton County, Florida, just pushed back.
What's the worldwide methane pipeline pusher excuse?
"Natural gas today represents the most important source of energy in the European Union," said Alexander Syromyatin, deputy head of Gazprom's project management department. "Demand in the near future will quickly overtake supply, because of the falling extraction capacity in Europe. The South Stream project will solve the problem of this deficit for the future," he added underlining hopes of an agreement.
Just like Sabal Trail's repeated claims of jobs, mostly meaning a few temporary construction jobs and restaurant bills while the main work is done by contractors out of Houston already hired, leaving us with all the hazards.
If those supposed economic benefits are so great, why not cut local communities into a share of the profits, like Tom Hoschchild suggested to the Lowndes County Commission?
Meanwhile, real economic benefits come from solar power. In June, , SolarCity bought Silevo, bringing thousands of jobs to Buffalo, a thousand miles north of here. Already last November there were more solar jobs than coal, or non-managerial oil and gas extraction. Want jobs? Cancel the fracked methane boondoggles and go solar: quick, inexpensive, on time, no pressure testing or cooling water, no hundred-foot gouge through fields, forests, and wetlands, and no eminent domain, and with real jobs and lower electric bills right where we need them.
Meanwhile, the methane pushers keep pushing:
Right on track

Meanwhile, Hungary's government is adamant that, although there have been no pipes installed thus far, the preparatory works along its stretch of the route are well under way and running at full speed.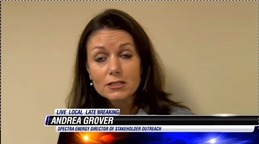 Just like Spectra's Andrea Grover: "the Sabal Trail natural gas pipeline is moving forward". Apparently she's not too convincing, since the Sabal Trail pipeline pushers have now called in FPL's CEO to try to rebut the opponents, claiming "New gas pipeline is vital for state", just like Russia and Hungary claimed for South Stream.
It's the same script worldwide, and even Putin couldn't pull it off. Let's play our part, like we already did at the hearing in Leesburg and like many people and groups are doing online, on radio and TV, and newspapers: let's demonstrate "much opposition", like Virginians just successfully did. Let's end this pipeline farce.
The FT article concludes:
If Brussels blocks the pipeline, it may therefore do Gazprom a favour. The company would be forced to behave in a more commercial way, ditching its plans for an expensive boondoggle where an alternative — the Ukrainian gas transit system — exists, and diverting the funds to more pressing projects such as domestic infrastructure and an export pipeline to China. It may not be such a bad thing for Russia if Mr Putin's pet pipeline never happens at all.
Anybody blocking the Sabal Trail Pipeline would be doing the American public and the world a favor, or its Pennsylvania feeder Atlantic Sunrise Project or the Constitution Pipeline or any other of the "natural" gas project intended to feed fracked methane to LNG export for pipeline company profit at everybody else's expense.
Florida is not snowy Russia: it's the Sunshine State, and by Sabal Trail's own numbers, half the pipeline acreage could produce twice as much solar power, without eminent domain, no drilling under rivers or through our fragile karst limestone aquifer, and no LNG-export-driven hikes in the price of domestic natural gas.
Cancel the pipeline farce and go solar, for real property rights, economic benefits, and clean air and water.
-jsq
Short Link: