EIA's summary: "Increased LNG exports lead to increased natural gas prices".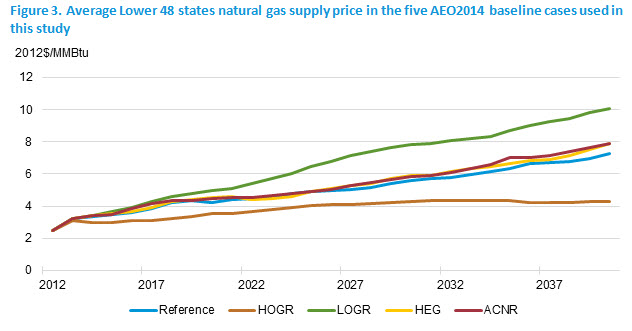 How can that be "consistent with the public interest" when there's a cheaper, faster, cleaner, and safer way that would not push domestic natural gas prices up, namely solar and wind power? So even if the Sabal Trail pipeline wouldn't take your land, risk your family and drinking water, or cost your taxes to pay for any leaks or explosions, if it exports through even those three already-authorized LNG export operations where it leads in Florida, it would run up the price of natural gas in the U.S. You don't even have to believe T. Boone Pickens: you can read this eia report that was commissioned by the very same Office of Fossil Energy that authorized those three LNG export operations.
U.S. Energy Information Administraiton, 29 October 2014, Effect of Increased Levels of Liquefied Natural Gas Exports on U.S. Energy Markets,
This report responds to a May 29, 2014 request from the U.S. Department of Energy's Office of Fossil Energy (DOE/FE) for an update of the Energy Information Administration's (EIA) January 2012 study of liquefied natural gas (LNG) export scenarios. This updated study, like the prior one, is intended to serve as an input to be considered in the evaluation of applications to export LNG from the United States under Section 3 of the Natural Gas Act, which requires DOE to grant a permit to export domestically produced natural gas unless it finds that such action is not consistent with the public interest. Appendix A provides a copy of the DOE/FE request letter.
The report considers several scenarios, summarized in the chart, all of which show U.S. domestic natural gas prices going up, ranging from what looks like not quite doubling to . more than quadrupling.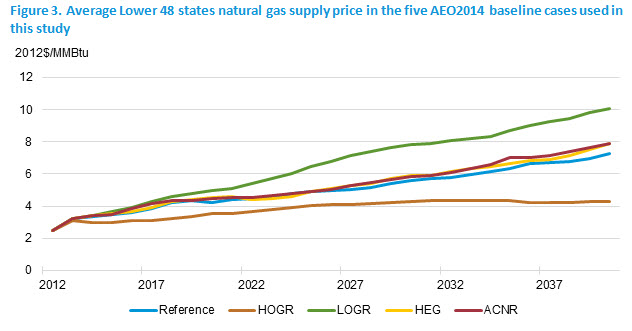 -jsq
Short Link: