Spectra Energy refuses to say much about a compressor station leak in Maine, much like the one in Pennsylvania in March 2013. Spectra's Susan Waller did offer that in a real emergency everyone would have been evacuated. Who wants that next to the five compressor stations Spectra proposes along the Sabal Trail Transmission pipeline it wants to gouge through Alabama, Georgia, and Florida?
Abigail Curtis wrote for Bangor Daily News 15 January 2014, 'The most terrifying experience': Residents question safety in wake of malfunction at Searsmont natural gas pipeline station,
First came the noise late New Year's Eve at the Searsmont natural gas pipeline compressor station, so loud that it caused nearby homes to shake and some residents, frightened by the jet-engine-like roar, to pack up their cars and flee for the night.

Then came the questions, as some members of the normally quiet rural community wondered how safe — or dangerous — it is to live so close to the Maritimes & Northeast Pipeline facility. The station was shut down for more than a week after the incident, though company officials confirmed Monday afternoon that it was running again.

Marylee Hanley of Spectra Energy, the company that owns and operates the pipeline, wrote in a series of terse emails that she would not divulge any more information until a public meeting at 6 p.m. Tuesday, Jan. 21, at the Searsmont Community Building. Town officials asked that the company hold a meeting in order for residents to get some answers.

"The necessary remedial action has been taken," Hanley wrote Tuesday morning. "We will provide information on the series of events that occurred and the subsequent actions taken at the public meeting we are hosting."
This is the same Marylee Hanlee who told Hudson County, New Jersey residents they have nothing to fear from a 30-inch pipeline. Terrence T. McDonald wrote for The Jersey Journal 5 October 2013, Spectra Energy to open controversial pipeline in weeks; testing begins Monday,
"For more than 60 years, Spectra Energy has delivered safe and reliable natural gas to this region. Spectra Energy has an outstanding safety record and our new pipeline will meet or exceed all federal safety requirements and regulations."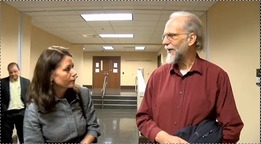 Like Spectra's Brian Fahrenthold and Andrea Grover in Valdosta, Hanlee seems "unfamiliar" with Spectra's rap sheet of a record $15 million fine by EPA in 1989 for spilling PCBs at 89 sites along a pipeline or even the December 2012 Final Order by PHMSA to Spectra's CEO to pay up for five violations involving corrosion and leaks.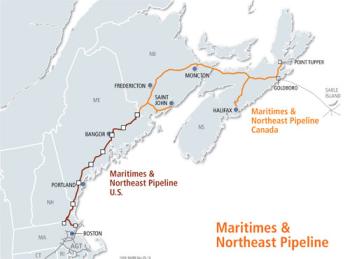 Back to Maine:
The roaring noise, which lasted from just before midnight New Year's Eve to almost 12:40 a.m. New Year's Day, was caused by natural gas venting into the air after sensors at the New England Road station detected an equipment malfunction. A pressure valve vented the gas outside, and the facility was automatically shut down….

"I want to see that we live in a safe community," said [Susan] Totman, whose home is about 1,200 feet from the compressor station. "When it initially went off, I thought it was an earthquake. Then it sounded like a jet was above my house. I looked outside. I thought there was a fire. It was absolutely the most terrifying experience I've ever had."

That night, she called 911, then the emergency number for the pipeline company.

"The guy that answered the phone [at the pipeline company] was clearly confused and a little bit panicked," she recalled. "I said 'Are we safe?' And he said, 'I can't tell you that.'"
Look who took charge of information:
On Jan. 2, Susan Waller, a spokeswoman for Houston-based Spectra Energy, said that her company had been responsive to the concerns of abutting landowners. At that time, the company had directly contacted eight residents and the town's first selectman, Bruce Brierley.
The same Susan Waller who seemed to find the truth about pipeline incidents as reported by her own company to be "disruptive" when some students showed it to her in Madison, Florida. The same Susan Waller who asked "what's your question" and then refused even to listen to the question. The same Susan Waller whose performance in Valdosta led the Valdosta Daily Times to headline its report Sabal Trail meeting leaves questions unanswered.
And back in Maine, shades of Milford, Texas, where all 700 residents were evacuated after a mere 10-inch pipeline caught fire:
Waller said that in the event of a true emergency, local responders would evacuate residents and control traffic, while engineers would remotely shut the valves down to prevent gas from going in the Searsmont facility.
How would that work?
It is unclear how a person is expected to evacuate.

"Run like hell," some locals speculated.
Back in March, the same Marylee Hanlee of Spectra first denied any release from a compressor station in Bedford County, Pennsylvania, then Spectra admitted it, but never said how much. Why should we expect anything better out of Spectra if one of its five proposed Sabal Trail Transmission compressor stations leaks?
The same Spectra Energy that claims to be
Steadfast in our belief that this process needs to be as open, honest and publicly transparent as possible
That same Spectra slide also says:
Recent pipeline incidents have shaken the public's confidence
Well, that's one little bit of truth from Spectra!
Spectra proposes five compressor stations along its Sabal Trail Transmission gas pipe: Alexander in Tallapoosa County, AL, Albany in Dougherty County, GA, Hildreth in Suwannee County, FL, Dunnellon in Marion County, FL, and Reunion in Osceola County, FL.
Why would anyone want a hazard like that next to their homes, offices, schools, or churches, or wildlife or wetlands, for that matter?
How about we get on with solar power instead of ripping a hole through the countryside for a hazardous gas pipe?
-jsq
Short Link: