A Sabal Trail Open House in Albany, Dougherty County, GA Monday, then one in Jasper, Hamilton County, FL Tuesday. That's the first two places in the route alternatives Sabal Trail just published. Does that mean Trenton, Gilchrist County, FL Wednesday and Kissimmee, Osceola County, FL Thursday? There is no published Open House schedule on sabaltrailtransmission.com or ferc.gov, so anybody who knows of more of these, let us know.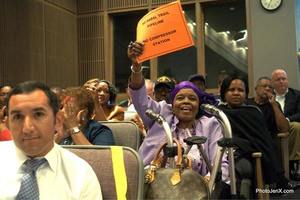 facebook event created today by Jen Maloney:
Sabal Trail "Open House"

Monday, October 20 at 5:00pm – 7:00pm
Hilton Garden Inn Albany Hotel
101 S Front St, Albany, Georgia 31701
The picture is by Jen Maloney from 29 September 2014, when FERC and Sabal Trail got questions they wouldn't answer at a meeting they didn't run, organized by the Dougherty County Commission and the Albany City Council. Sample: Gloria Gaines.
FERC's John Peconom kept a stiff upper lip in that picture, and he presumably knew what most people in that room did not. That very same day, FERC rubberstamped Cove Point LNG in Maryland, despite at least as massive public opposition.
Since that September meeting, national media finally started paying attention. It's time for the media to look again. And it's time for proud Spectra to think again.
-jsq
Short Link: