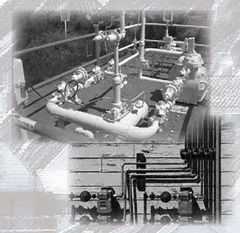 How desperate is the pipeline industry getting? One has gone so far as to demand a court grant it veto power over public open records.
Kala Kachmar, Montgomery Advertiser, 17 September 2014, Alagasco sues Advertiser to stop use of pipe safety plan,
Alabama Gas Corporation has taken legal action to attempt to stop the Montgomery Advertiser from publishing or writing about the company's document that outlines a plan to ensure the safety of gas pipes.

The document, Alagasco's Distribution Integrity Management Plan (DIMP), was obtained in June through a public records request to the Alabama Public Service Commission (PSC), which oversees the state's utilities.

All gas companies are required by the federal Pipeline and Hazardous Materials Safety Administration to file a plan that assures pipeline safety and integrity with the state entity that oversees utility companies.

The regulation requires natural gas distribution companies to develop, write and implement a plan that identifies threats, evaluates and ranks risks, identifies measures to address risk, evaluates effectiveness and reports results.

On Sept. 12, Alagasco obtained a temporary restraining order, or restriction on publishing the information, from Jefferson County District Court. The company also filed civil lawsuit against the newspaper and a motion for a permanent injunction, which if granted by a judge would prohibit the Advertiser from publishing the information. A hearing will be held Sept. 25.

The Advertiser's use of the document is part of a national USA Today investigation that examines the dangers of cast iron pipes, which when corroded can cause gas leaks, fires and explosions. According to federal data, Alagasco has about 833 miles of cast iron main gas lines, which is the highest of any gas company in Alabama and ninth highest in the country.
The article continues with details about Alagasco's pipelines, and a quote from Alagasco's motion for a temporary restraining order:
"sensitive, confidential information regarding Algasco's proprietary pipeline distribution network and infrastructure."
Sensitive why? Because pipelines are such obvious enemy targets? That would fit with Alagasco's further language about:
"critical energy infrastructure information"
And with this:
Public knowledge of the company's energy infrastructure would make it "vulnerable to sabotage or terrorist attack, thereby endangering the life, limb and property of the public," according to Alagasco's motion.
So how about we stop building any more such fragile pipelines?
Or just business proprietary? In which case, why does this make any sense:
The company alleges that the Advertiser obtained the document illegally from the PSC, and that Alabama's open record laws are designed to allow utilities the opportunity to challenge any requests for disclosure. The motion says because the Advertiser didn't "serve" Alagasco with the proper "form" and request, the newspaper unlawfully obtained the document.
Why should a private company get veto power over the release of public open records by the Alabama Public Service Commission? For that matter, why should a plan required by PHMSA be secret anyway?
Notice this story was published in the very same newspaper Alagasco is suing.
"If their attempt to exercise prior restraint holds up, the loser will be public safety," [Tom] Clifford [executive editor of the Advertiser] said. "We properly found out where the bad pipes are, and right now we are being ordered by a judge not to tell you where they are. How ridiculous is that?"
And Clifford property called Alagasco's motion an assault on the First Amendment.
FERC seems to avoid this issue by refusing to release a taxpayer funded RFP or the proposals received for it and by repeatedly refusing to release a list of affected landowners.
-jsq
Short Link: